Mother's Day Gift Guide 2022: Top 10 Picks!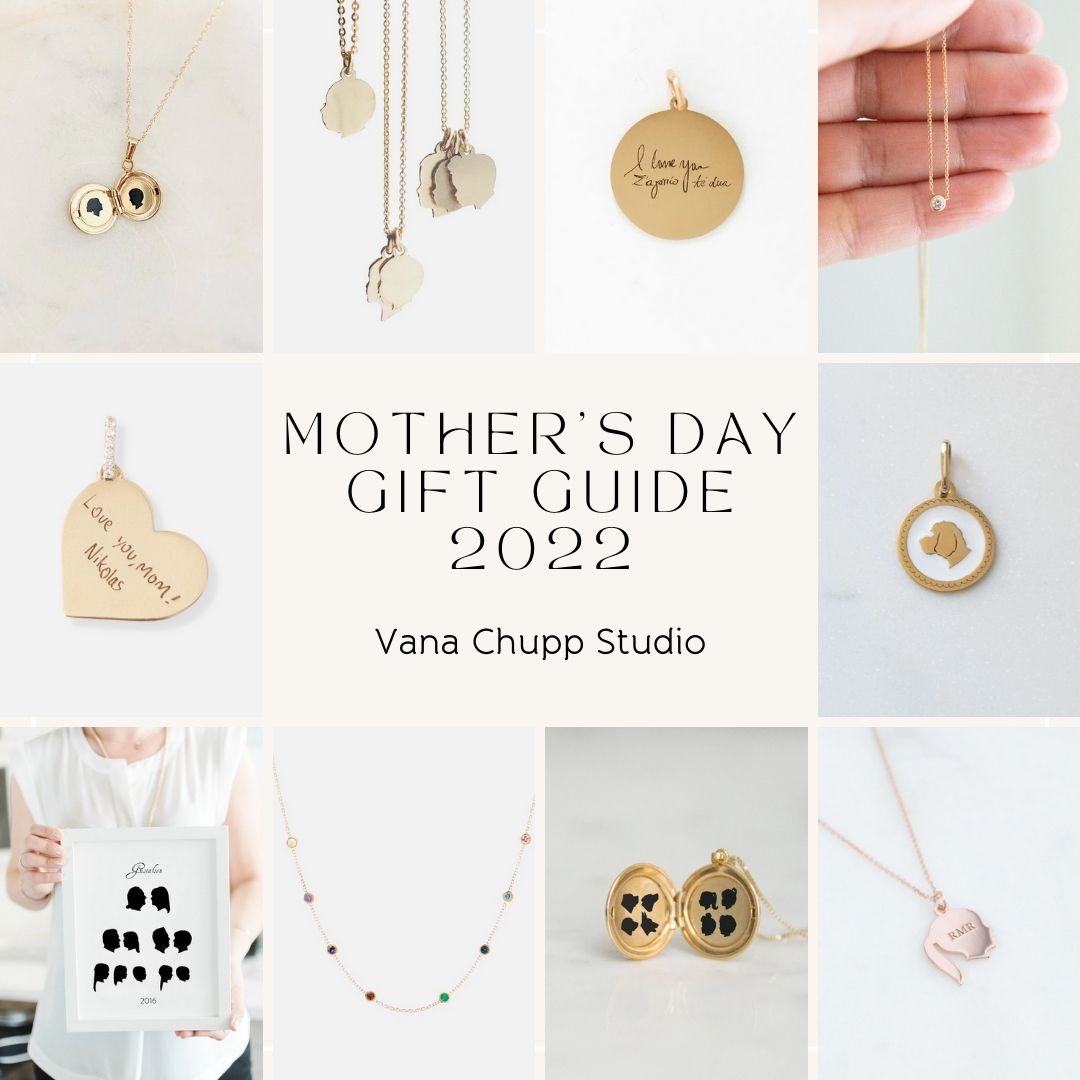 Mother's Day is May 8th and now more than ever we're looking forward to honoring the moms, grandmas, stepmoms, and mother-figures in our lives. They work tirelessly each and every day to provide a safe, loving, and encouraging environment in which their family can grow and thrive. We recognize their work and hope to honor them with this VCS Mother's Day Gift Guide.

We compiled a list of 10 items from the studio that are bestsellers, community favorites, and pieces chosen personally by the VCS team. This list makes it easy for you to gift mom and grandma something we know she'll truly cherish. 
Click on each photo or product name to be taken directly to the product page. Order by March 25th to receive guaranteed Mother's Day delivery via standard shipping.
Classic Charm Necklace in Tiny

. The foundation of any timeless heirloom collection. O

ur Classic Silhouette Charms are the perfect way to start mom's collection. Is there a new grandchild in the family? If so, grandma can effortlessly incorporate the baby's silhouette into a charm necklace she already owns.
Classic Charm Necklace in Medium

. One of our bestsellers and what most of our customers choose to start their VCS heirloom collection with. Its design and size make it versatile enough to be worn on its own or beautifully layered with other treasured pieces
Gold Dainty Birthstone Necklace

. This stunning necklace holds up to 8 beautiful stones and is the quintessential personalized piece. We love how versatile you can make this necklace by adding your child's birth month, your wedding anniversary, your own birth month, or another meaningful special event.
Gold Modern Diamond Solitaire Necklace

.

This is one of our best selling necklaces for a reason! It's simple enough to wear as an everyday necklace and also breathtaking for special occasions. Mom will look just as incredible wearing it in an evening gown as she will in her favorite jeans and tshirt. 
Large Handwriting Heart Medallion

.

Handwritten notes from loved ones are so special to us, and now we can wear them close to our hearts. We love the idea of engraving a child's first try at writing their name or an always sweet "I love you, Mom" message.
Birthstone Charm Bracelet. The ultimate expression of love. A special signature, a small scribble, the sky's the limit when it comes to designing your Heart Handwriting Medallion. Engrave both sides for a special gift for grandma.
Enamel Medallion - Scallop Border

. Consider this our modern take on the classic locket. Customizable with her loved ones' silhouettes, initials, and names, all captured within a detailed scallop border. This modern keepsake is perfect for the contemporary mom.
8. 14K Gold Locket in Petite. For the mom who loves a classic gold locket. Add one silhouette to each side within, and engrave the front and back face. Gift this to a mom of two and watch her cherish it each and every day.
9. 14K Gold Locket in Large. We love this locket for grandma, as it holds up to 8 silhouettes inside. Our owner, Vana, gifted this locket to her own mother this year, and features the silhouettes, names, and initials of everyone in her family.
Classic Silhouette Portrait - Multiple

. Capture her heart with this one-of-a-kind portrait that can feature every member of the family, including the pets! We think this would make such a special gift for her to open on Mother's Day and display in her favorite room in the house.
To shop the entire Vana Chupp Studio collection, click here.