2022 Year In Review - Vana's Reflections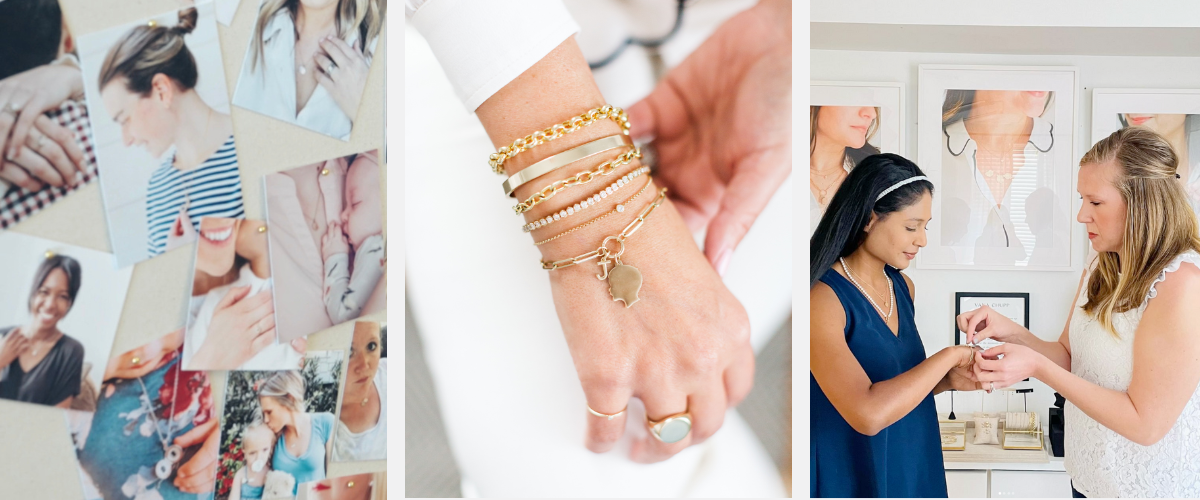 As we approach the end of 2022, I'd like to take a moment to reflect on all  we've accomplished this year. I am so proud of our hardworking team and immensely grateful to our customers who trust and support our brand year after year. Here are some of our most noteworthy moments from 2022...
14 Years in Business
In March we celebrated our 14th anniversary! It's humbling to look back at how it all started. I couldn't be more proud of how far we've come as a brand. Serving our amazing community and staying true to our mission is at the core of our existence. We are inspired each day to continue to do our best work and bring about heirloom products that help you celebrate your precious people and tell your unique stories.
Pottery Barn Kids Partnership
We launched our first partnership with Pottery Barn Kids - a collection of our bestselling charms and portraits offered on their online stores as part of a handpicked keepsake product collection. It's always a dream to know that our creations are loved by so many in our community. It means that what we do brings value to your lives, and when someone comes along and wants to give those pieces a larger home, well, we're humbled, to say the least.
Bauble Stockings Partnership
This partnership was a labor of love and I couldn't have been more honored to have worked with their team in launching The "Celebration Silhouettes" bauble collection - featuring three holiday themed stockings ("Life As We Know it", "Sweet Beginnings" and "Forever Together")  designed with life's special moments in mind. We picked Alex's Lemonade as the organization of choice to donate 10% of profits - in an effort to raise funds for impactful research to help cure childhood cancer. With your support, we were able to donate over $5K as part of our Giving Back mission.

The Legacy Collection
Ever since I started my company, I've dreamed of creating beautiful products that help women capture special moments in their lives be in their motherhood journey, life's special milestones or curating a beautiful jewelry collection. In the recent years I've had the privilege to  work closely with customers who have trusted me with the design of some very special pieces. Inspired by these experiences, I designed our first Legacy pieces. I am looking forward to adding new products to this collection in 2023.

In-Person Connections
2022 was the year of in-person connections - both with our local customers (new and existing) and small businesses. I have come to realize how important these connections have been for me personally but also for our team. Running an online business has its benefits but it often leaves us feeling disconnected from the people we're serving. We felt an immense joy inviting local customers in our showroom through in-person shopping events. We look forward to more interactions with our community in 2023.

Looking Ahead at 2023...
After a year of learning, growing and fine tuning our processes, we look forward to focus on what we do best.  In the year ahead we're excited to continue elevating our brand and offer the best (service and product) to our customers. In 2023 we  are making some changes and releasing some incredible new products that we've been working on for some time now and look forward to share with you soon!
Thank you for your support this year! We couldn't do it without you.
Vana