Renegade Chicago | Part II
Last week I briefly wrote about my experience of selling at
Chicago's Renegade
. Some of you expressed interest to find out more about it – so I decided to do a Part II. Let me first start by saying, if you have an online based business and are thinking about participating in some local craft shows – DO IT!
Prior to Renegade I participated in a few smaller shows and I didn't do well at all. I had come to a realization that my creations sell best online where I'm targeting a larger market (both local, national and international). Still I decided to give Renegade a try being the type of show  that it is. I am glad I did. Not only was it successful for me but most importantly, I learned a lot. Here are some tips for you:
Photos (via Renegade Craft Fair Flickr group)
Spend some time thinking about what to bring and how much of everything. In my case, most of my products are personalized so I had to plan ahead.  I brought along items that people could purchase on the spot – but was also prepared to take orders or simply hand out business cards to those interested in purchasing from the comfort of their home. Sure enough, I had a few orders through the website a few days after the show. How much of everything should you bring? I had no idea, so I brought way too much. The cons to that? A lot of left over inventory. Of course, you can consolidate some of it (Renegade has a shop in Chicago who offers to buy some of your inventory in consignment basis). I am attending a few other shows this fall, and hoping to sell the rest of my inventory.
Have a Budget
Everything adds up – from the booth fee, tables, chairs, table clothes and wares to display your work, to your inventory. Be smart with planning your booth – look for display items around your house (baskets, cute platters, easels etc) and always keep in mind to tie it all to the look of your product – your brand.  Buyers will remember you this way. 
If you plan to sell on a craft show, make sure you visit one ahead of time. You will get some great ideas on booth set ups, watch the shoppers and get a hands-on feeling of the show. Don't be afraid to approach vendors whose work you admire. Ask questions, take notes. In my experience, most vendors are super helpful and would happily share their two cents with you.  I also spent hours looking at
Renegade's Flickr
group to get ideas on booth layouts.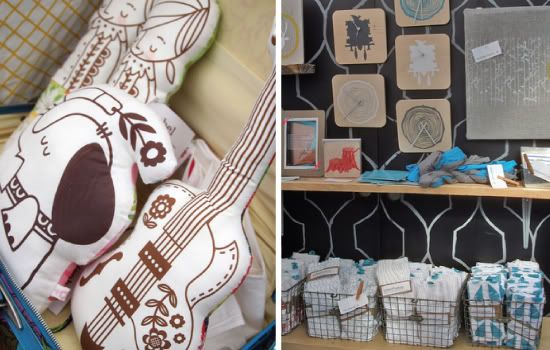 Photos (via Renegade Craft Fair Flickr group)
Keep it Simple
From personal experience, I think simple booths stand out the most. There is something inviting about a well planned yet simple layout booth. No need to overcrowd your table/booth. One of each items neatly displayed should be enough. Keep the rest of your inventory packed in plastic bins and tucked away from the buyers' eyes. Make sure to display your work in various heights – this will allow your booth to stand out from afar.
Promote and Network
Promoting your business is huge even during the show. Answer questions and have a positive attitude even during the busiest times. People will remember that. Bring enough business cards and/or other promotional materials such as postcards to last you through the show. If you're a jewelry maker or a clothing designer – ware your goods. What better way to show off your creations? Exchange business cards with other vendors. This is a great way to connect with other artisans in your community.
The following is a list of resources I used in preparing for the show:
Banner, business cards and postcards – Got Print
Credit card processing – Pro Pay
Display items (such as cute platters, frames and baskets) – Home Goods, Target, Michaels
Useful articles :
Craft Show Display Tips and Must-Haves (via Etsy),
A Glimpse Into the Renegade Craft Fair (via Etsy)
 Last but not least, remember to have fun and smile. After all, this is all good and exciting for your growing business!

The post Renegade Chicago | Part II appeared first on Le Papier Blog.