Introducing :: New Blog Series from Hello Designers!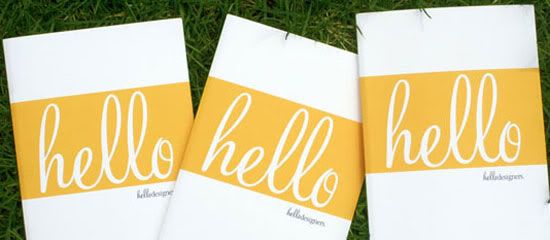 Hello hello Le Papier fabulous fans! My name is Lisa Gainor and I am the Creative Director and owner of
Hello Designers
. Vana and I met through a dear friend in 2009 and worked vigorously to
reorganize and redesign
her e-commerce website before the holiday rush last winter. With a few tweaks here and there we increased her website traffic brought more sales to the site. She and I are both happy with the results. And, I am happy to have been asked to contribute to her blog.
I have been in the graphic design, branding and marketing inudstry for 10+ years. Just like Vana, I launched my dream job in 2009: my own design studio!
My clientele focuses on the retail industry from small start-ups like
BabyDolls Boutique
, to large established retail shops like
Paper Source
. I love to consult and design with like-minded entrepreneurs who are passionate about their products and need an extra set of eyes, ears, and design background to take their business to the next level.
Over the next few weeks I am going to share my trade secrets with you to help enliven your business, or if you are simply toying with the idea of branching out of the corporate world and starting a business, I will provide you with tips and tricks to take that leap of faith!
Next week I am going to reveal my Top 5 Branding Basics. A successful brand needs a good story behind it. Just think of how often we share stories with friends and family. What makes these stories so memorable? A catchy, unique story line, something that stands out from the crowd…just like you. So then then, ta-ta!
Lisa
The post Introducing :: New Blog Series from Hello Designers! appeared first on Le Papier Blog.