"The bathroom has got to go!" yelled Callie Grayson!!
Hello, it's me again! Callie Grayson!
Thanks for stopping by, and a HUGE thank you to Vana for letting me contribute on her lovely blog! Today, I am posting about my existing bathroom! 
Just a few words of description: Scary, hideous, nasty! 
Here is a list of what needs to be remove from my bathroom:
metallic floral wall covering from the 60's

plastic

pearlescent gray tiles and black tiles from 1947

huge M monogram in the shower

swirly pearly toilet seat and toilet from 1947 (

I don't even want to think how many gallons are used with each flush of this toilet!!!!)

counter and lavatory cabinet 1970's (

note the counter goes over the toilet so I can't really remove the lid of the tank!)

Shower sliding doors with fish pattern

1970's shower pik!  YES, I HAVE A SHOWER PIK!!! a beautifully ugly tan coloured shower pik!!

ugly 8×8 asbestic floor tiles in black. (will need some work abatement here! should be easy since they are not really glued down anymore)
Now for the images:
hold on, this bathroom is going to scare you!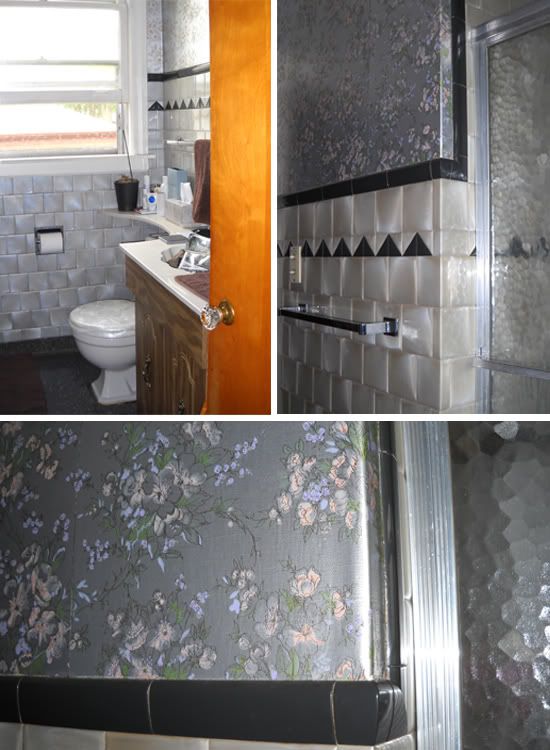 Next week, I will be showing you a before floor plan and what is proposed with some inspiration materials.  Sorry, I didn't have the plans ready for you.  I had way to much fun last weekend:) which now I am under the gun to get this bathroom complete before my parents arrive at the end of July!! Did I mention, I only have 1 bathroom!!!
Thanks for stopping by! see you next week!
—- 
Make sure to check out Callie's Bathroom Inspiration post from last week.

The post "The bathroom has got to go!" yelled Callie Grayson!! appeared first on Le Papier Blog.