We spent another evening dining al fresco. It was the perfect weather for it. This time we kept it light. We made Grilled Marinated Shrimp and Vegetables – the perfect summer recipe.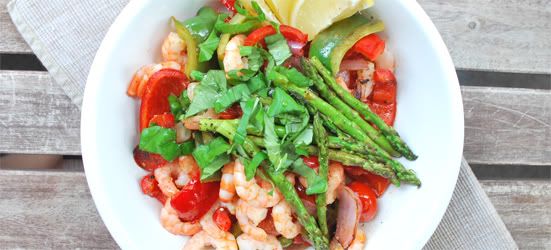 Grilled Marinated Shrimp and Vegetables
(makes 4 servings)
Ingredients
1 package of raw shrimp, peeled and deveined (we prefer small)
1 red bell pepper
1 green bell pepper
1 cup cherry tomatoes
1/2 red onion (medium size)
6-8 asparagus
2 tbs chopped fresh basil
Marinade
2 cloves of garlic, minced
1/4 extra virgin olive oil
juice of 1 lemon
zest of 1 lemon
1 tsp salt
1 tsp black pepper
In a large combine all the ingredients for the marinade. 
Prepare the vegetables by chopping them roughly (about 2 inch pieces). Add the shrimp and vegetables to the bowl. Using your hands make sure they are evenly coated. Cover and refrigerate for at least 1 hr (stirring once or twice). Preheat grill on medium heat. Transfer the shrimp and vegetables and discard the marinade. Cook shrimp about 2-3 minutes per side until opaque – remove from grill. Next, remove the asparagus and allow the rest of the vegetables to cook a bit longer.  You'll know when everything is done cooking when they start to caramelize (especially the red onion). Garnish with fresh lemon juice and basil and serve with a side of rice (we love basmati or jasmine). Bon appetite!
Aaron made his specialty – mint tea lemonade – a favorite around here.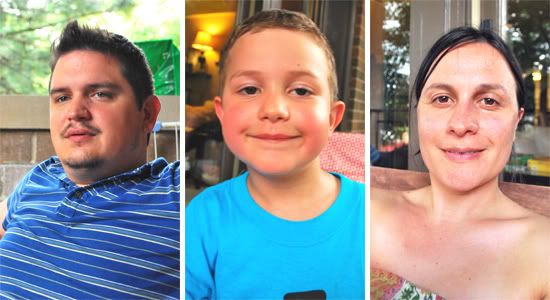 Do you have a summer dish you'd like to share? Put it on the comments section below – even better – send us a link to it. We're always on the look out for new delicious recipes.
PS. That take tan on our faces is from a new camera setting:) Niko's tan is semi real though:)
The post Al Fresco Dining appeared first on Le Papier Blog.