---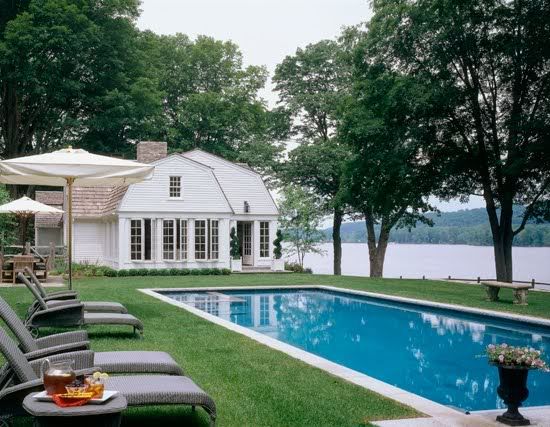 Summer might not officially be here yet, but that doesn't seem to matter once days are spent in the garden and bedtime comes before dark (at least for the little ones!). Once the day's work is done – or perhaps before it starts – most would agree there's nothing more restorative than a bit of swimming. Recently on vacation, we found ourselves stuck in an urban pool with hundreds (thousands?) of children splashing and jumping and yelling and splashing and, well, you get the idea. Relief finally came during the 10-minute "adult swim" when dazed parents wandered about in the shallow depths. I found myself wishing I was with a few friends in their beautiful private pool, sipping a cool drink and enjoying the water in a more relaxed fashion. I love the way we were able to integrate this pool with the landscape. Sitting poolside you can enjoy the view of the house, the pool, the lawn, and the river beyond. Here's hoping we can all find some peace and quiet to complement the more active aspects of summer!
Photography by Durston Saylor
The post Prelude to Summer appeared first on Le Papier Blog.